Randy Buckner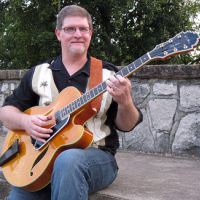 Randy Buckner performs regularly with his Moll guitar. He plays fingerstyle — in the style of Merle Travis and Chet Atkins — as well as jazz and rockabilly. He became a student of the guitar 37 years ago, starting at age 9, and continues to challenge himself as a performer and busy guitar teacher.

Buckner studied music at Middle Tennessee State University. There he studied jazz guitar with Paul Abrams and classic guitar with Roger Hudson.

Early in his career, Buckner performed with musical hero Merle Travis. He recently won second, third, and fourth place, in three categories, at the International Thumpicking Guitar Contest in Muhlenberg County, Ky. and second in the National Thumpicking Contest in Mt. View, Ark.

He says about his Moll:
The guitar plays itself, I'm not even aware of it when playing, and there is an impressive attention to detail in Bill's workmanship. It has an extremely comfortable neck and a beautifully figured maple back, sides and neck. He goes on to say: I get little or no feedback in a live situation.

At a recent National competition, one of the judges commented that Randy had the best tone of all the contestants.