Donato Soviero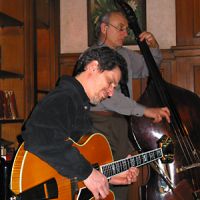 Guitarist/Composer Donato Soviero has been playing music since the age of twelve. Inspired by the genius of John Coltrane and Wes Montgomery, he began jazz studies at the University of Miami, and later earned a Bachelor's degree at George Mason University. He has studied with Joe Pass, Howard Roberts and Emily Remler. A resident of the D.C. area since 1982, Donato has appeared with local artists Dick Morgan, Keter Betts, Ron Holloway, and many others.

Mr. Soviero has played the Kennedy Center, the Smithsonian and the Carter Barron Amphitheater, where he opened for Poncho Sanchez and Tito Puente. He has also appeared with national artists at Wolftrap, the Convention Center, and RFK Stadium. Mr. Soviero has been the receipient of several awards, including a 1994 TAP Award from the D.C. Commission of the Arts and Humanities and a 1995 GIA Fellowship from the National Endowment for the Arts.
About his guitar...
"To me, Bill represents the apex of craftsmanship in modern guitar building. His inherent aesthetic sense is always the epitome of class and taste, and the attention to detail in his guitars is really astounding! His strength lies not in just making incredible sounding and playing guitars, but in making musical instruments that truly resonate with the player. Bill's guitars feel "right" from the moment you pick them up! In a time that has produced so many wannabes, copycats, and "furniture makers," it is such a pleasure to play instruments conceived by a true master!"
Visit
Donato Soviero